Your search for the right custom modular home ends at Oasis Homes. Oasis offers only the best built Michigan modular homes and as always, our manufacturers have successfully combined both quality and affordability in the off-site built homes that we sell. If you want a better alternative to a stick-built home, then look no further than Oasis Homes. We have a proven track record in providing people with the best built prefabricated homes for their families' personal needs while staying within their budget.
Oasis Homes is unique, not only do we offer outstanding homes, but our professional office staff consists of licensed builders, realtors, custom home designers, and exceptional support staff. Each of our dedicated staff members take pride in the finished Oasis home. We will evaluate your property, create and design your personal floor plan, perform all site improvements and complete the finishes for your new home.
Customizing Your Floor Plan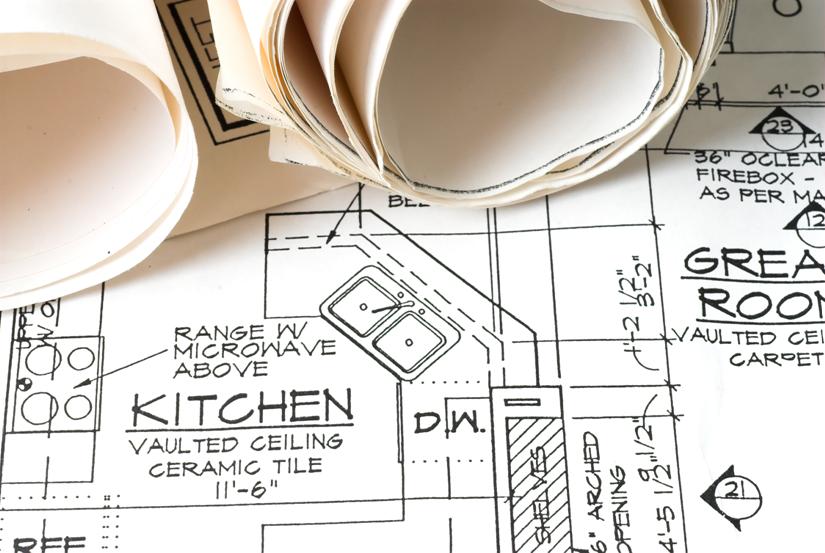 Thinking beyond the box is our specialty. We design homes in a modular format that few companies in the world are capable of building. Whether you are looking to build your first home, dream home, vacation home, or retirement home Oasis Homes can offer you countless possibilities.
We offer standard or customized Ranches, 1 1/2 Story, and 2 Story homes to fit your specific lifestyle. We know that not everyone wants the same cookie-cutter home, so we specialize in creating homes that accommodate not only your needs, but also your personal style. We can accommodate open floor plans, tall ceilings, gourmet kitchens with granite countertops, luxury baths, French doors, hardwood and tile floors, elaborate windows, or handicap accessible home. Whether you build from your imagination or start from a standard floor plan from one of our home collections, our goal is to make your dream home a reality.
Floor Plans
With 35 years of experience in developing floor plans and custom work, our professional design staff are experts in creating unique, yet affordable homes. In addition to the standard manufacturer plans, we have developed over 500 custom plans ranging from 1,000 to 5,500 square feet. If you can't find a plan from our extensive floor plan library, we will help create one with you. Let our design expert help you envision your dream home that starts with a personal consultation to gather information of what are priorities in your home. We will design a plan to satisfy your needs while staying within your budget.
UNIVERSAL DESIGN
Universally designed homes are not only intended to meet your family's needs now, but also in the future. These design features can be used by all people, no matter the age, size, ability or disability. Features such as wider hallways and doors, level entrances, extra floor space, and a one-story floor plan all allow easy access for people in wheelchairs and strollers, and to move furniture. Other unique features that universally designed homes have are non-slip floors, good lighting, lower light switches for toddlers, flush thresholds that allow easy access for wheelchairs, and higher electrical sockets for back sufferers.
INTERIORS
The inside of a house adds a special touch that heightens personality and character. Since no two people are alike, each home is designed to match your individual style. Some prefer tall cherry cabinetry with decorative moldings, while others may prefer classic white cabinetry with simple trim. Choose from our vast selections that include many different styles. When it comes to making your many selections of stair railings, windows, doors, cabinets, toilets, faucets, trim, flooring, crown molding, built-in appliances, and built-in entertainment centers, it can be extremely overwhelming. We want the selection process to be stress-free and run as smoothly as possible, that is why our customers are assigned a sales coordinator who will present quality selections that fit your personal budget.
EXTERIORS
Much like the interior of your home, the exterior is an extension of your personalized style. Designing the exterior of your home can be a overwhelming and complicated process of color choices, types of material and textures. For the best curb appeal, your house should blend with its natural surroundings and neighborhood. From front doors to garage doors and roofing to porches, we can customize the outside of your home to your style. Our exterior structure design styles range from traditional, contemporary, craftsman, rustic, French country, or any combination to fit your personal style. In addition, the exterior covering options include stone, vinyl, log, brick, and composites. The exterior of your home should follow and reflect the interior design. We will help with your exterior design choices to make sure you are completely satisfied with the final look.
---
Project Management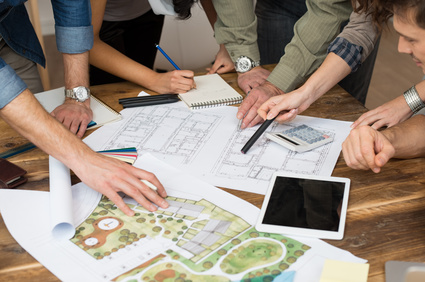 Oasis Homes will perform the planning, organizing, and execution of a comprehensive list of tasks to complete your home building project. We have the skills and experience to execute your home project effectively and efficiently. Oasis licensed building staff will assign an experienced project manager to oversee your home project to ensure your home project meets it goals, timeline and budget. We will manage the entire building process so that your experience of building your dream home becomes a reality.
Project Manager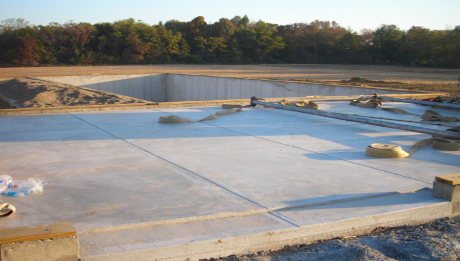 Our project managers have years of experience in the industry and will develop a cost-effective plan and schedule for your home project. They will coordinate the various phases of the project and make sure that all specifications, building codes and regulations are being followed. Our project managers will track and control the construction schedule of your home. Oasis Homes wants our customers educated, involved, and aware of everything that is happening in their home-building process.
Final Details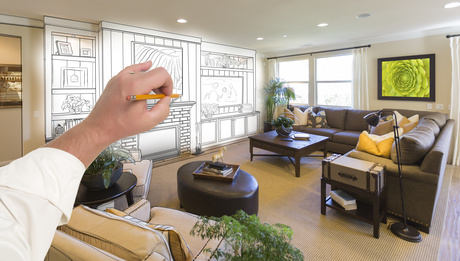 Oasis Homes will perform a homeowner's orientation to familiarize you with your new home. We will review the operation of various systems and components so that you are aware of how they function in your new home. Our Service Coordinator will explain your responsibilities for maintenance, as well as review the Residential Warranty Corporation (RWC) warranty that is included on your modular home that provides ten years of major structural defect protection.
---
Details and Complete Pricing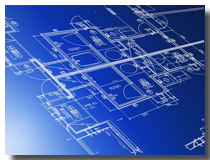 Oasis Homes understands that attention to detail is crucial to the success of your home project and is the reason we provide detailed house drawings, scope of work and specifications. You will also receive a comprehensive list of items included with your home, so you will know exactly what to expect and there will be no surprises or stress.
Detailed House Drawings
Our detailed engineered drawings far exceed architectural residential drawings typically used to build homes. In addition to the standard floor plan and exterior elevations, we provide additional drawings that include electrical, framing, plumbing, mechanical, energy calculations, electrical and mechanical calculations, extensive structural drawings and calculations, door and window schedules, truss drawings, foundation drawings and calculations, and much more. These comprehensive drawings ensure better tolerances and tighter cost controls for your home. We want to help you understand these drawings and why they are so important in making sure everything in your home fits and finishes the way it was intended.
If you made a change in the living room arrangement, we would automatically update your electrical plans to make sure your TV jacks and electrical outlets are in a convenient location according to your furniture placement. If you made a change to the bathroom, we would make sure to adjust the lighting and plumbing to accommodate the new layout. All design changes require special attention to ensure they do not negatively impact any other design or structural component of your home.
Detailed Specification
There are many details that go into the building site before it is ready to receive your new home. It is incredibly challenging to know the entire home-building process and all the specifications that need to be met if you are not in the building trade industry. When we review the purchase agreement with you, we will bring attention to all the work that is included and all the work that is not included so nothing is hidden. Oasis Homes will advise what permits, foundation work, and site work that is needed and the costs associated with each item. We want our customers to be knowledgeable about the process so they are never confused or frustrated.
Detailed Scope of Work
The appliances, flooring, roofing, bath tubs, sinks, faucets, windows, and other specifications are all important selections for your home. Here at Oasis Homes, we want you to know what products are included in your home before it is built. We will provide you with the detail product specification that you have chosen especially for your home.
Finalized Pricing
When you choose Oasis Homes as your trusted home-building company, you will know the price of your home before it is built. This concept may seem like standard practice, however it is not. Almost all building companies provide their customers with ball-park estimates prior to the house being built without a final price. They will have cost allowances for items such as windows, doors, and flooring. When the home exceeds those allowances, which typically occurs, the result is an extremely unhappy customer with a stressed financial account. Oasis Homes works closely with our customers to determine the set price of their home before it is built. We review all the specifics such as the flooring in the kitchen, the doors for the rooms, or the window type in the living room before your house is built. This way our customers know exactly what they are paying for in their new home. By calculating these specifics, we are able to determine the accurate price of the house and bypass much confusion, frustration and stress.
Design
As the floor plan and exterior design work of your home progress, you will be assigned a Sales Coordinator that will guide you through selecting the amenities, products, and finishes of your home. Our specialist has extensive experience and knowledge on liveablity, product features, colors and unique ideas that will complement the style of your home. They are familiar with many product lines and designs to help you create your personal style and achieve that "Home Sweet Home".
Making it Your Own
When you first step into your home, we want you to appreciate what you have created. Oasis Homes works with you to make your home unique. Features like built-in cabinets and entertainment centers, archways, custom shower tiling, and tray ceilings add charm to your home that stands out from other homes and adds resale value to your home. Let us know if you have an idea on how you want to customize your home and we will try to incorporate your design ideas to your new home.
Budget
Buying a house is one of the largest purchases anyone will make in their lifetime. We are sensitive and supportive of working within your budget and can present alternate ideas and products to achieve the desired interior and exterior design styles. Planning all the details for your home can be stressful. When designing your budget, don't forget items such as homeowners insurance, utilities, maintenance, future improvements, landscaping, outside buildings and decorations.
---
Financing your home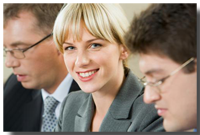 Our long standing relationships with the nation's most experienced and competitive lending institutions has given Oasis Homes the competitive advantage to making your dream home possible. Our loan professionals' dedication to you will ensure that you receive the financing to fulfill your needs, while working to answer all of your questions to help you make an educated decision on which loan program best suits your financial needs.
---